THE STORY:
In December of 1973 Irv Culver, of Lockheed Skunk Works fame, attended our SCHGA meeting in LA and handed out, to anyone who wanted one, blue line prints of a flexwing design that he said would be much safer than the Rogollo type design because it would recover from any dive.
Unfortunately, the old blue line copy had badly faded in my cabinet and was barely readable, when I took it out in May 2012 to take with me to Oregon to give to Ken DeRussy for his hang gliding museum. He said he could get it copied by a printer who could improve the visibility of the text and drawing. Five years later I received the improved copy, 22" x 32" on heavy art paper. But it was still too low contrast to get a good photo copy so I spent hours carefully inking over everything, except Culver's signature and date. I didn't add anything that wasn't there already.
THE DESIGN:
This design had reflexed wing tips that provided the pitch stability, a common practice for swept all wing designs. The sail was also tight approaching the tips which would aid in the downward force there (I used inverted tip ribs on the Skysail).
The sail is also reflexed at the keel and he mentions that if a sail pocket is used it needs to be tapered (to preserve the reflex). Such a sail pocket would allow some shifting right or left of the sail like today's gliders to help with weight shift roll control.
Another innovative aid to dive recovery was a reflexed batten midway on each wing half. The batten was not only reflexed but it could pivot upward aft of the cross spar if the sail in front was starting to collapse (no cambered battens running to the LE in those days). This would provide an opposing force to the collapse of the forward sail.
Another feature ahead of it's time is the hinged cross spar which he said could be used to tension the sail. This is similar to the draw back cabled cross spars we use today.
Then for "safe splat"; skids on the nose and control bar.
The LE's are 3.5" dia., tubing with the sail coming straight back from the top (no pocket) to provide some airfoil camber to increase stall angle of attack.
All in all, this is an amazing design for its time in HG history. Of course I guess that's not surprising for a guy who headed up the Skunk Works at one time.
I never heard of (or saw) anyone building or flying one of these and it would be good to know if someone did. It seems like I remember one of the glider shops saying they were going to build one (possibly Eipper) but I never heard anything more about that.
MY COMMENTS:
This design would not be as good flying wise as today's flexwing hang gliders with their cambered full battens and with the tight sail at the wingtips, while helping the effectiveness of the reflex, would make weight shift roll control more difficult. It's possible that a moveable rudder or drag rudders at the tips would be needed to effectively turn the glider. He does mention a vertical stabilizer but doesn't show one. However, this could be the reason he put dihedral in the design.
Here is a reduced copy of the plan. You will still need to scroll around a bit to see the whole drawing.
Frank Colver
Attachment: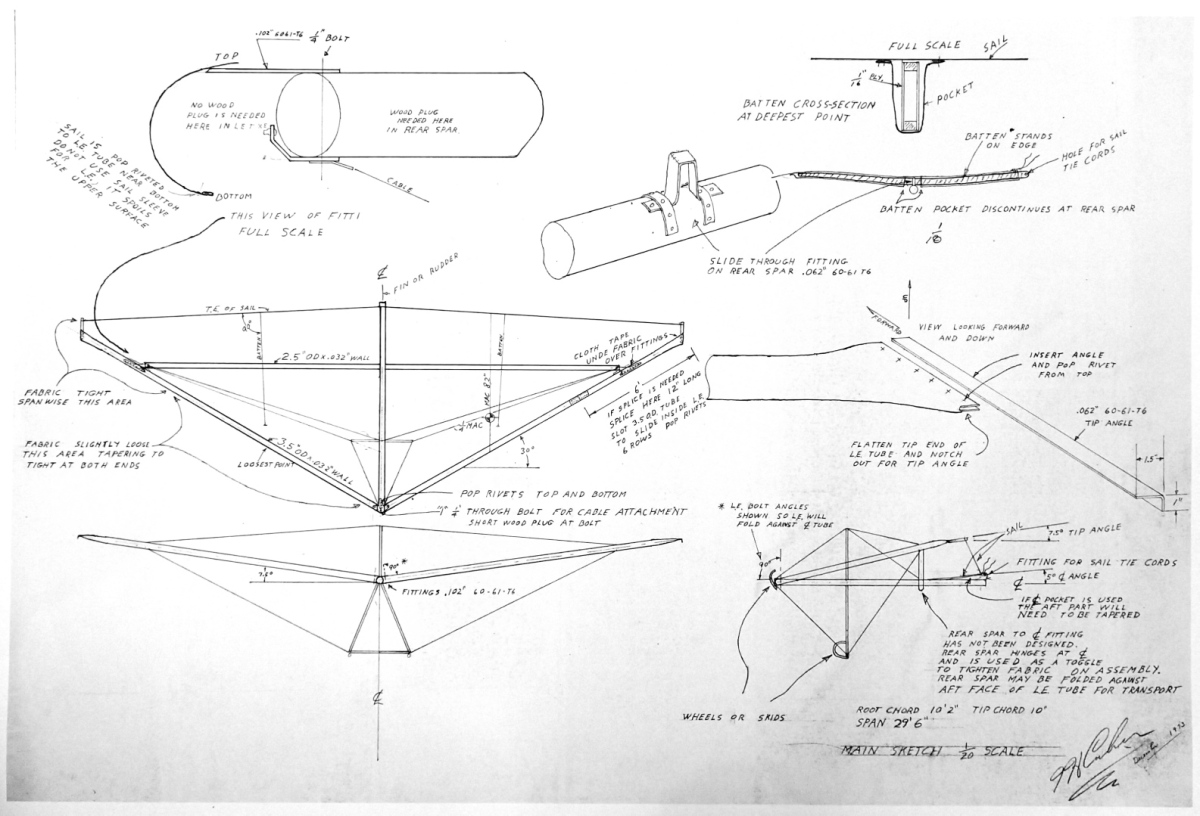 Irv Culver's safe flying flexwing drawing-1973 R.jpg [ 317.53 KiB | Viewed 5845 times ]