One video narrator said crowds went to see him fly under tether; that would be kiting. Was there more?
Alabama might be claiming something of interest for hang gliding historians or not.
Attachment: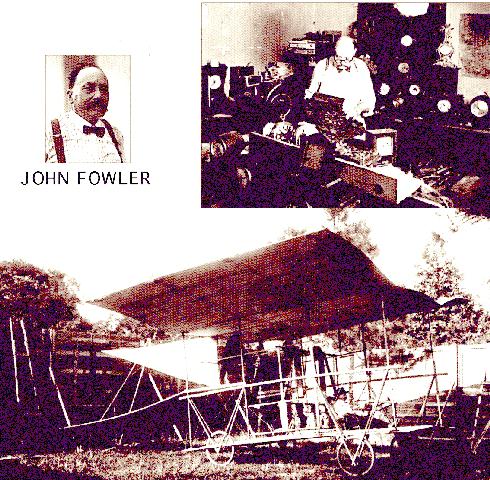 flight1.jpg [ 82.1 KiB | Viewed 4040 times ]
By ROY HOFFMAN
Writer in Residence
It is a Saturday night in 1892 and John Ellis Fowler, a short, stocky man with a walrus mustache, is heading down Dauphin Street from his clock repair shop. Under his arm is a Bible, and when he reaches the corner of Royal he finds a box, climbs up on it, and proclaims that he's going to fly.
The man is 30 years old, and a few years before he had nearly drowned while sailing in Mobile Bay, but prayed for salvation and washed up at a lighthouse. He tells people of this occurrence, and urges them to praise the Lord, to turn from their wrongdoings. Soon, at the waterfront, he will perform the miraculous feat of sailing into the air.
A Register newsboy, Charles Jackson, is listening to Fowler, ``the white preacher'' he calls him. Jackson knows from the newspapers he sells that men have attempted flying contraptions in other towns: lighter-than-air dirigibles propelled by bicycle pedals; gliders that swoop down from promontories.
Fowler has experimented with model planes propelled by rubber bands called planaphores and shown these to curiosity-seekers in Bienville Square. The year before, 1891, German Otto Lilienthal has begun the first of his 2,000 experimental flights with gliders in Europe. Fowler himself, catching the Mobile Bay winds, has flown large kites with looping tails.
But no one, from the day Leonardo da Vinci first sketched bird wings and dreamed of manned flight, has lifted a heavier-than-air machine into the sky.
On a Sunday afternoon three weeks later, Fowler appears with his machine, spectators gawking from the western shore of the Bay. Charles Jackson is there, too.
``Come on,'' Fowler says to Jackson, and summons the newsboy toward him. ``Get in.''
The winds are whipping and Jackson begins pedaling and the heavier-than-air machine, propellers twirling, lifts them into the sky. Over the waterfront they turn and swoop. One mile, two miles. Far below people are waving.
They descend toward cheering crowds, landing hard. One of the legs of the airships cracks off, but they are triumphant.
In 1966, when Charles Jackson is 85 years old, he writes the Mobile Register, giving an account of that extraordinary day.
``I wonder,'' he asks, ``why Mobile has not gotten the honor of being the first air flight in the country or of the world and why Mr. John Fowler's name is not in history.'' SH:`Folk aeronautics'
``I don't believe it,'' said Tom Crouch, concerning Charles Jackson's story. Crouch is chairman of aeronautics at the Space and Air Museum, Smithsonian Institution.
In fact, Crouch had never even heard of John Fowler until being contacted by the Mobile Register last week, and Fowler's name was nowhere in the Smithsonian.
As a result of conversations with the Register, he has decided to open a research file on Fowler in the archives of the Space and Air Museum.
Its first entries will be information and photos that are part of this article, and an article on Fowler written by the late Col. Ned Humphreys of the Army Air Corps.
What Crouch found fascinating about Jackson's story, though, was its being in the tradition of ``folk aeronautics.'' He talked of the myths that grow up around aviators of yesteryear, the fables that get passed down by word of mouth, embellished along the way.
There is another myth about Fowler that Crouch wished to clear up.
Family members believe that the Wright brothers came to Mobile in 1901, spied on Fowler's flying machines, and stole innovations in particular, wing-warping that were critical to their epic flight at Kitty Hawk in 1903.
Author of ``The Bishop's Boys,'' a biography of the Wright brothers, Crouch said the Wrights kept extensive notes on their research, and credited their influences.
He concluded they made no trip to Mobile in which they viewed Fowler's inventions and appropriated his ideas. There are many folk tales, he said, about Orville and Wilbur Wright showing up mysteriously around the country.
After learning more about Fowler, Crouch agreed that, even if the Dauphin Street dreamer did not invent the airplane, like many early aviators he should be celebrated.
``Fowler was trying to fly at a time when other people laughed at the notion. There's a heroic, courageous notion in this. The courage, the risk you don't have to steal the credit from someone who made the great breakthrough in order to recognize Fowler as a pioneer.''
Might have worked
In 1893, electric trolleys came to downtown Mobile. J. Howard Wilson, owner of the trolley system, befriended John Fowler and made sure that when he built his next plane it would be powered by two motorcycle engines.
That's the story that Frank Calagaz, 86, told, adding that his father, at the turn-of-the-century, watched one of Fowler's high-flying planes fall into Mobile Bay.
A folk tale? Calagaz didn't think so.
In 1896, Otto Lilienthal crashed to his death in Germany from one of his gliders; the following years saw competition around the nation for aviators to become the first in powered flight.
Among them was Samuel Langley, a Smithsonian official, who tried to take off in his motor-powered aerodome from atop a houseboat in the Potomac. The aerodome collapsed. A Washington Post cartoon dubbed the craft, heavily financed by the government, ``The Buzzard.''
Hal Halpin, an aeronautical computer engineer from Houston, and a Fowler family friend, has transferred Fowler documents to computer programs.
He is convinced that, with more money and thus better equipment Fowler might have accomplished his dream of being first.
This desire was fueled by the motor-powered aircraft Fowler constructed in the mid- to late-1890s in a field near Magnolia Cemetery.
Purportedly, the plane sat on a five-foot platform ready to zoom down a sloped runway to the ground. The engines would be revved, a cable released, and the plane would catapult along the runway and up into the air.
But according to accounts, a riot ensued at the park when Fowler had his plane ready to launch.
Anxious Mobilians, fearing Fowler would kill himself, began tearing the plane apart. One of Fowler's brothers, Richard, who was physically disabled, tried to beat away assailants with his crutch.
Flying solo
When Fowler married Mary Maurin a woman who cared nothing for aviation dreams, according to her grandchildren he seemed a man alone in his flights of fancy.
``She didn't have red hair for nothing,'' says Letha Maurin, who married into the family. ``She could drink a sailor under the table.''
Granddaughter Wilodean Byrd remembers how Mary a widow with three children before marrying Fowler cut up his airplane propeller and threw it in the fire.
Fowler's grandnephew, Edwin Alvin Fowler, recalled visiting him in his watch repair shop, and how he would talk about his inventions while continuing to work on clocks.
Wilodean liked to visit him in the shop at noon, just to hear all the chimes. She says he charged little money for his repairs, and as years went on preached that all men should make the same, exact amount of money.
When he went to the Navy ships on Mardi Gras day and preached from atop their guns, according to nephew Fred Fowler, 85, the sailors tied him up and threw him in the river.
``A lot of people thought he was cracked, excuse the bad word,'' explains Letha Maurin. ``He was over-intelligent, I guess. It made him peculiar to other people.''
Fowler began to sell shares in his airplane to raise funds.
He enticed the public to support him by coming to Monroe Park to see his work-in-progress.
He published this ad in the Mobile Register: ``If two thousand children would save up one penny a day for five days, and if two thousand older people would lay aside one penny a day for ten days and come and pay five and ten cents admission early in the month of June, I would be able to make good headway and finish the machine by the fifteenth of July.''
Eccentrics
There were other inventions Fowler made along the way. Kids who grew up on the Dauphin Street block where he had his watch repair shop recalled a miraculous creation Fowler kept in his window a perpetual motion machine.
As the children pressed their faces to the storefront glass, they became mesmerized by the wheel and ball, turning endlessly around. Were they watching a revolution in physics?
Fowler took this perpetual motion machine to display it at Monroe Park. Fred Fowler confided that he once leaned against it when it was wet from a rainstorm and got an electric shock.
Fowler's clock-fixing talents were more dependable.
He once was called on by the city of Mobile to repair the clock in the tower of the old courthouse. Although a repair specialist from New York was unable to make the clock work again, Fowler was able to do so.
Fred Fowler said his uncle simply whittled a new gear that it needed.
He told a story that will add to the notion of his uncle as an eccentric.
At age 12 he accompanied John into the clock tower to help wind the enormous springs. When they got there, in the broiling heat, John directed him to strip naked and did the same.
The pair began to crank the clock, their bare bodies streaming sweat. Afterward they doused each other with buckets of water, got dressed, and returned to the Mobile below.
Another claim
There is another claim that John Fowler flew before the Wright brothers. (In one version, Charles Jackson again appears as a minor player.)
This claim depends on the notion that the flight was ``tethered,'' and that Fowler waited for the wind of a tropical disturbance to come howling from the Gulf, then tied his aircraft by a mooring cable to an oak tree in Monroe Park.
At just the right moment, once the winds lifted the plane, Fowler was supposed to release the cable and voila free flight! But by his own account, he was afraid the plane would crash if he let go of the cable.
The innovations made on this ``flight,'' Col. Ned Humphreys wrote in his research on Fowler, were technical ones, learning how to maneuver in the air, and how to land.
The colonel wrote: ``John Fowler did control in tethered flight an underpowered flying machine.'' He adds, ``Although not done in the presence of witnesses.''
After viewing a photocopied picture of the plane, with its crude wings, Tom Crouch was skeptical of whether this tethered flight could have taken place as Fowler, alone in that storm, reported.
Crouch cautioned, however, about ``digging too hard'' into the legend.
Fowler turned his attentions to building an autogyro seaplane at Monroe Park. It was meant to seat 22 passengers, and go straight up in the air.
According to Frank Calagaz, who rode his bike to Monroe Park as a boy and talked with Fowler, the inventor had also built a small shed for himself behind the seaplane where he'd often spend the night.
In 1939, John Fowler, having yearned to change the course of history, drew his last breath. He was laid to rest in an unmarked grave.
Celebrating a dreamer
It is a bright, March day at Magnolia Cemetery in 1997, and the blue sky looks perfect for flying.
Under a newly minted headstone reading ``Aviation Pioneer'' lies John Ellis Fowler, who'd be at home up in that sky, banking the wings of an airship. Clustered around are a hundred people many family members, and older townspeople captivated by the lore of a man described as ``crazy smart.''
Col. Ned Humphreys of Daphne, founder of Bombardiers Inc., organized this event.
Capt. Leonard Pratt, fellow Bombardier, took up the mission when Humphreys passed away. As a result of this headstone dedication, distant relatives come together who have not seen each other in decades.
But the Bombardiers are not only eager to rehabilitate stories about the flier. They wish to exhume his body and move it to Battleship Park, creating a historical shrine.
Fowler's nephew, Fred Fowler, and great nieces, Jean Sullivan and Elizabeth Nichols, think that would be just fine.
Like many assembled today, they are firm in the conviction that he flew the first plane, and that if he gets no credit, it's because the Wright brothers stole his thunder.
Jean Sullivan says she knew Josephine Chambers, who watched Fowler fly in 1901.
Chambers went on to teach at Little Flower School, and instructed generations of children that it was Fowler, and not the Wright brothers, who made aviation history.
Wilodean Byrd says she knew a man, M.J. Farnell, who'd held one of the ropes as Fowler's first plane got off the ground.
The stories multiply about somebody knowing somebody who was there who saw it happen.
What the experts on aviation history have to say matters little to most of these devotees, here to celebrate a dreamer, an inventor, a maker.
From the eldest, Fred Fowler, to the youngest, 7-year-old Cori Byrd, a fifth-generation descendent, they know that their forbear was the first to dally up in the clouds.
What do Cori's classmates answer when she tells them the story? She smiles. ``They say, `Wow.' ''
In 1924, when John Fowler took his first airplane ride above the clouds, he complained: ``While it was very enjoyable, I can't say that it gave me any thrill. The reason why I have waited all these years before going up is that I had always wanted to take the first airplane ride in my own machine. Of course, I don't count those 10- and 15-foot flights of long ago.''
As the ceremony concludes and family members break into clusters, trading more stories, there is the sound of a motor high overhead.
Thanks to ARP for bringing up "John Fowler" in an email.
Welcome to USHawks, John Fowler.